Education – Support – Safety
Intervention referal to Rehabilitation & Counciling
Policy development & implementation
The Construction & Other Industries Drug & Alcohol Program Inc. was established by employers and workers in the construction industry to address the issue of unsafe work practices caused by drugs and alcohol in the workplace. It is run by a committee of worker and employer representatives together with experts from the drug and alcohol field.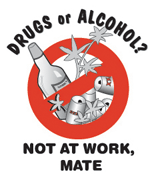 Principle
People dangerously affected by alcohol or other drugs are a safety hazard
to themselves and all others present in the workplace.
Background
Construction is one of the most dangerous industries in Australia, with the second highest rate of occupational accidents. In around 20% of all workplace accidents, Drugs or Alcohol are a contributing factor. People dangerously affected by alcohol or other drugs are a safety hazard to themselves and all others present in the workplace. There may also be legal ramifications, resulting reduced Workcover payments and even common law claims if an affected worker hurts a member of the general public.
TopObjectives
To reduce unsafe work practices resulting from the use of drugs & alcohol.
To inform workers about the Construction and other Industries Drug & Alcohol Program and to have the policy adopted on site.
To increase the awareness of workers of the harmful effects of drugs and alcohol.
To provide safety committees with the skills to effectively intervene in the event of unsafe work practices caused by alcohol and other drugs.
Provide access to rehab and other service providers.
"It's about respecting yourself and supporting your mates"
TopEducation & Training
The program teaches workers to take responsibility for their own safety and that of their fellow workers through a peer based safety program.
It does this by:  
On site
Increasing workers awareness of safety and health issues related to the use of alcohol and other drugs by construction workers.
Raising awareness of depression and mental health issues which might lead to self medication of drugs and/or alcohol.
Educating safety committee members, delegates and workers on implementing the program, using a specially designed training course incorporating training video and various promotional materials.
Other venues
Presenting the program and its policies to apprentices and pre-vocational students at TAFE colleges throughout South Australia.
We can train your employees and supervisors to prevent and recognise problems in the workplace caused by drugs and alcohol.
Training includes:
What constitutes harmful drug and alcohol use
Dealing with the long term user or those intoxicated in one off situations
The effects of alcohol and drug use on health, safety and work performance
General statistics on workplace drug and alcohol use and related injuries and incidents
The consequences for employees who fail to comply with company drug and alcohol guidelines.
"Employers must provide employees with information, instruction, training & supervision to ensure that each employee is safe from injury and risks to health." (Occupational Health, Safety and Welfare Act 1986)
We can provide assistance to employers in developing and implementing a workplace drug and alcohol policy.
The first step for employers in dealing constructively with drugs and alcohol in the workplace is to formulate a comprehensive workplace policy. This should be done in consultation with worker representatives. The aim of any policy should be prevention, education, counselling and rehabilitation and it should be part of an organisations overall occupational health and safety strategy. A copy of the policy can be downloaded below:
COIDAP Policy (PDF)
While the safety concerns created by substance abuse was the driving factor in the inception of the program, fitness for work can be effected by many other factors, such as stress, depression, anxiety, grief etc. Often workers do not know where to turn for help when trying to deal with these issues and in the worst case scenarios may even contemplate suicide. Suicide mortality rates from the construction industry are 75% higher than average Australian male rates (43 per 100,000 – CBUS 1998-2004). Cases of workplace intoxication are often symptomatic of emotional stress and mental health issues.
Workers need not feel alone as help is only a phone call away, as the Drugs & Alcohol Program links to coinciding and rehab service providers throughout the community.
If you need help, advice or are concerned about  a workmate, family member or a friend, or would like to arrange a meeting on your site contact Jack Owens on 0418 847 180.

TopAward Winning Program
The Program has been officially recognised for it's contribution to Occupational Health and Safety in South Australia.


2000 Augusta Zadow Award for Excellence
in Occupational Health & Safety



2001 WorkCover
Best Promotion Award

For more information or to arrange a site meeting contact Jack Owens
Mobile: 0418 847 180 –  Office: (08) 8373 0122 –  Fax: (08) 8373 1929  –  Email: coidap@birst.com.au
TopDocuments
COIDAP Policy (PDF)
Alcohol @ Social Functions (PDF)
COIDAP Needle Policy (PDF)